When Landis Graden started DCG Strategies in 2005, he saw how vital community organizations in San Francisco were struggling with limited revenue and weren't being served by commercial real estate companies. He wanted DCG Strategies to provide expert real estate management services to community-first organizations such as nonprofits, schools, faith groups and government institutions. By optimizing their real estate resources, Graden planned to ease the funding burden for these organizations and allow them to focus on serving the community. Today, DCG Strategies is proud to do exactly that and set an example among commercial real estate companies in San Francisco.
Proud to Serve the Community with All Commercial Real Estate Needs
The team behind DCG Strategies are skillful commercial real estate professionals who are driven by the company's mission to serve community-benefit organizations. They're experienced in working with the unique needs of their clients and have developed a reputation for understanding community priorities. DCG's clients aren't motivated only by profit; they want to maximize the end result of their goal to serve the community. The DCG team takes an orthodox approach to commercial real estate to meet their goals. If this means facilitating the sale of a church building to another congregation or stipulating that a plot must be used for low-income housing, DCG's team members are proud to work with those goals. Graden puts it this way: "Everything we do…there needs to be some social benefit to it."
Pioneers in Holistic Approach
Not all commercial real estate companies in San Francisco understand the complicated organizational structures and the multi-step deals when it comes to community property. It requires years of experience working within these deals and structures, as well as the desire to serve the community. The DCG Strategies team takes a holistic approach to real estate and are skilled in offering out-of-the-box solutions. Their combined years of experience also provides the technical knowledge and expertise clients expect from a larger company. Lauren Jennings, VP of Operations, explains the difference between traditional commercial real estate companies and DCG Strategies in a simple way: "We care about you and the deal but also the mission."
For example, a school district looking to sell an unused building might require clearing up red tape and working with multiple government agencies. Working with a team that already knows how to navigate the process allows educators to focus their attention on their students. And in the case of a church that wants to rent out office space during the week, it might mean finding tenants that fit with the church's mission and can't afford space elsewhere. Whatever the challenge, DCG Strategies is capable and ready to meet it.
Community First Mindset
Why does the DCG Strategies team think is it so important to take a mission-first approach to real estate? They see it as a unique opportunity to use their talents to care for the communities they live in around San Francisco. Says Landis Graden, "If no one is focused on just helping the community be successful, then we're not going to have a community left. It's vitally important that we see a common thread through most of the work that we do."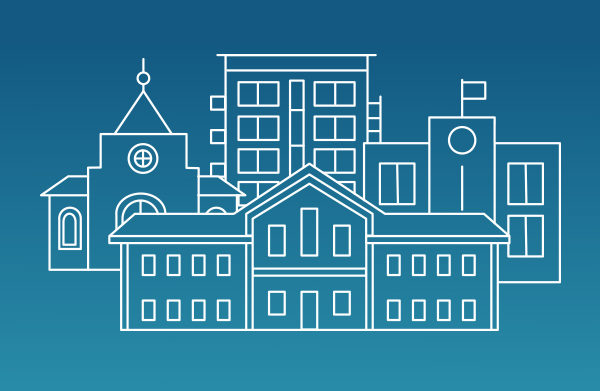 If your organization is interested in working with DCG Strategies, please schedule a consultation here. We would love to speak with you further and learn more about your real estate needs and goals for the community and answer any questions you may have. And please stay tuned for our upcoming blog series featuring our individual team members, and learn more about what sets DCG apart from the rest of commercial real estate companies in San Francisco.